Consider this tip: Flowers make fantastic gifts!
If you have a special someone with a birthday or other noteworthy occasion coming up soon, you may want to consider this tip: Flowers make fantastic gifts!
There are few things as lovely in this world as flowers.
Masterpieces of Nature's art, flowers come in all colors, sizes and
types. Their beauty rarely fails to rouse admiration from all who see them and giving flowers as gifts makes a statement to recipients–telling them that they're special to you and that you wanted to gift them with something beautiful.
History of Flowers as Gifts
Giving flowers as gifts is nothing new. In fact, this is a tradition that began centuries ago and has never fallen out of fashion.
Long ago, in ancient Greece, flowers were dedicated to the gods and people of notoriety were often crowned with garlands of leaves and flowers. Later, during the 1700s, French and English travelers brought home the practice of using flowers as a sort of language.
Floriography, which the Victorian era brought into vogue, literally means communicating with flowers and herbs, normally as a sort of coded message. This unique language of flowers was sometimes spoken through giving "tussie-mussies" or small flower bouquets.

Tussie-mussies are still in use today and are a charming way to send a message with flowers.
In the language of flowers, certain blossoms hold a particular meaning. Here are just a few of the flowers that were given as gifts during this time period to express a sentiment without words:
Lilacs–these flowers symbolize a new found love.
Stephanotis–frequently used in bridal and wedding bouquets even today, these pretty flowers mean marital bliss.
Roses–The most famous of all romantic flowers, roses stand for love.
Daisies–these simple flowers send a message of love and loyalty.
Gardenias–A gift of these fragrant flowers means that the sender is secretly in love with the recipient.
Down through history, and enduring to this day, flowers as gifts send a message of love and caring!
Flowers as Gifts for All Occasions
Flowers make ideal gifts for all occasions. Valentine's Day, Christmas, anniversaries, birthdays, weddings, illness….these are but a few of the special times when people traditionally send flowers. However, many people delight in sending flowers to someone for no special occasion at all; merely to express feelings of affection, gratitude, love, congratulations, sympathy, or just to say "I'm thinking of you."
With the advent of the internet, sending flowers has become much easier!
You can get online and find florists who will send flowers virtually anywhere in the world, often with same day delivery. Browsing through the various choices, an internet shopper looking to send flowers to someone can compare prices, selections and delivery times of different merchants who specialize in online floral gifts.
Besides the many breathtakingly beautiful fresh cut flowers you might like to send someone, there are also potted flowers, such as African Violets or lilies, which will be more of a lasting gift.
Whichever type of flowers you decide on, you can be sure that their arrival will be met with pleasure by the person receiving them.
Regardless of the occasion and the sentiment you wish to express, you can't go wrong when you say it with flowers!
---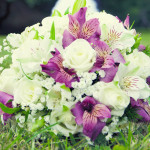 Share with us your opinion and advice on what type of flowers to buy on a particular occasion, or how to get a flower bouquet without breaking a budget.
Offers from popular companies that sell all things related to flowers.
---