Kansas City Review.
The Magic Found There.
I want to tell you about Kansas City: a place that I have visited several times in the last couple years. Even if Kansas City is more known for Missouri, I refuse to talk about just one half of the city I want to include both Kansas and Missouri into this review.

Although Missouri is where most things are the Kansas side has a lot more of the businesses like GE and stuff there. Both are very nice in their own ways but both are so beautiful when covered in snow. I have lived and been to a lot of cities including ones like NYC, L.A. , Dallas, Philadelphia just to name a few. This city is nothing like those at all it is so beautiful, but modern yet, also historical all at the same time. Let me explain.
So there is an area that is called the Power and Light District that has a lot of upper class bars and 4 and 5 star restaurants and shopping places to go. It is really an area that suits everyone's taste, and
entertainment venues. Now getting past that the look of the skyline is so beautiful to me, it gives off that modern look I was talking about.
This is truly a city that looks just as nice during the day as lit up at night which is usually hard to find. So after seeing the modern look now let me tell you about the historical side to this city. First of all they are known as City of Fountains of the world no other place in the world besides Rome, Italy has them beat. They have 200 fountains throughout their city and although I hope to go back and see them all one day look at the beauty of just 2 of them below.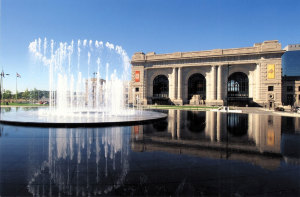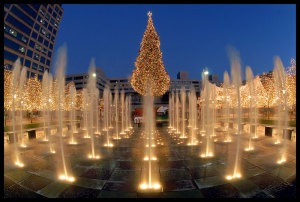 It truly is a beautiful place. Now don't get me wrong just like any other city they do have their bad sections that you don't wonder into as well, but that is everywhere. I do think the good parts of this city make up for the bad by far. Kansas City is a city; I think a lot of people over look when looking for vacation spots.
Also another historical part of this city that I got to see myself was at Union Station which is their train station. It was kept up with a more historical look that was so beautiful to see. From the ceilings to the floors they had me gasping at the beauty around me.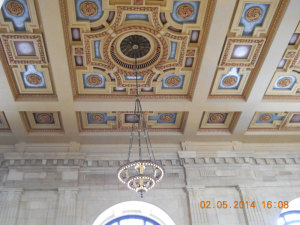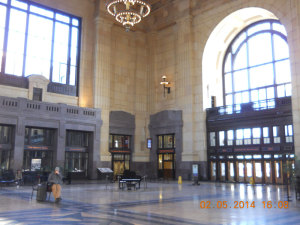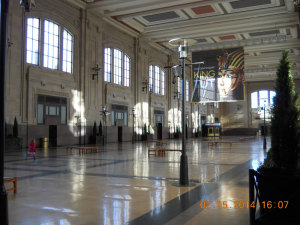 This is a city that I plan to go back to time and time again so why not plan a trip to see all the great things that Kansas City has to offer you and your family.
Images credit: Danyale Nees.