Proflowers review;
Proplants, flowers, flowers in a vase.
I have been wavering for a long time on buying flowers online. Once I had a bad experience from one company a while ago, that went through our local florist and ended up with the wrong order. Due to that I stayed away from online flower ordering for a while. Recently I got back into the mix, and decided to give Proflowers a chance.
I heard so many great reviews about this site, so figured why not try again for my mom's birthday. They have so many choices of flowers, and I love how their site separates things by holidays and occasions. That way you can find what you are looking for no matter what the event calls for.
I ordered basic roses, nothing spectacular, my mom loves roses. I loved when you order it, gives you the option of different vases, or none at all. Not to mention you can add note cards to the flowers or teddy bears and such as a gift. Don't forget the balloons you can add to. Get everything, to make it more special, than just flowers, if you chose. I myself ordered a vase, nothing more, but I do love the options either way.

After I ordered the flowers I was amazed at how fast I did receive them. They came by FedEx, and are not delivered from your local flower shops. I thought this could be disastrous due to not being fresh enough. Wrong, these flowers were fresher, than the ones I get locally. I opened the box; not only did the flowers have instructions with them on what to do to make them live longer, but also came with plant food, and had them in water while they shipped. Granted, it's the little tubes but they took extra care in doing so.


We pulled them out and put them in a vase, and did as the instructions said to do. It is funny I have never had roses that last more than a couple days, maybe a week, but these flowers from Proflowers lasted about 3 weeks before they actually died off.
That is an amazing record of time for flowers that are from florists. I do think the plant food they gave probably helped but they stayed beautiful and flourished for 3 weeks, you can't beat that. So even though they were mailed through the mail they are hands down my favorite company for buying flowers from now. Proflowers are a bit pricey for some, but the great part not only is it worth it, but they also have flowers for just about any budget. This makes them one of the best online flower companies in my book.
You can also get some flowers delivered on the same day, so if it is something that is last minute make them your stop either way. Also Proflowers sells plants and sweets too. So if flowers aren't what you want to give to someone no worries there. I still love that you can order just the flower you want whether be roses or lilies, or what not. Anyways check this site out for this Holiday season and occasions you have in the future.
---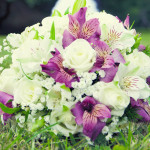 Express your fillings with flower bouquet.
If you have a special someone with a noteworthy occasion coming up soon, you may say it with flowers!
Offers from popular companies that sell all things related to flowers.
---