Motorcycles and motorcycle accessories, ATVs, Mopeds and Street Bikes
Have you recently purchased an ATV, motorcycle, or moped and want to tell us your story? Whether it's the wilderness adventurer to snazzy motorcycle accessories for the stylish driver—We'd like to know it all to help future buyers. No one knows the freedom of the open road like seasoned motorcycle riders, so why not pave the road for others to start their own journey today?
---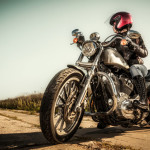 Reasons Why People Love Motorcycles.
Motorcycles are highly priced properties that are loved by most people. It is very interesting that those people who own motorcycles are very possessive with them.
---
Advertisements
ChopperExchange

Online classifieds website for new and pre-owned American V-twin motorcycles.
New & Used Harleys for Sale.
What's Your Motorcycle Worth?
---
Biker or Not Store

Variety of motorcycle accessories, biker goods and apparel and for men and women including pins, patches and branded shirts from TV shows, including: Sons of Anarchy, The Walking Dead, and Duck Dynasty.
---
Biker Or Not

Join the Social Network for motorcycle enthusiasts worldwide and never ride alone.
Use Biker Or Not to find friends, riding partners, events, dates and just about anything biker related.
Join the Largest Biker Social Network
---
Bladz Biker Jewelry

Biker and Skull jewelry including rings, bracelets, necklaces, and pendants.
5% off on Biker Apparel: Sons of Anarchy Apparel, Duck Dynasty T-shirts, Men's and Women's Biker Sunglasses, AMC's The Walking Dead Apparel, Christian Biker T-shirts.
---
Megamotormadness.com
If you are looking for the best quality Electric Motorcycles, ATV, UTV, Mopeds and Scooters, Dirt Bikes, Trikes or Street Bike come to
Megamotormadness. This is where you will get it all. It is here that you will also get a variety of inventory parts and motorcycle accessories at discounted prices. This is an authorized dealer with relevant licenses to trade in all these products. Enjoy your shopping and get good value for your money.
Mega Motor Madness Deals and Offers
Free Gloves & Extra $15 Off for Orders $600+Coupon: ATV15;
$25 Off for Orders $1000+Coupon: ATV25;
$55 Off for Orders $2500+Coupon: ATV55.
Free Gloves & Extra $20 Off for Orders $700+Coupon: SCOOTER20;
$30 Off for Orders $1000+Coupon: SCOOTER30;
$60 Off for Orders $2500+Coupon: SCOOTER60 for All Scooters.