Best of Asheville:
Best things to see and do in Asheville NC
When you Google the best places to visit in North Carolina, or fun things to do in North Carolina, then the beautiful mountain city of Asheville will come to the top.
A heaven of hikers and hippies, artists and alternative-types, musicians, free-thinkers and those looking for a city break a little more on the wild side; Asheville, North Carolina is a hotpot of cultural interest and the rugged outdoors. Framed from above by the rolling peaks of the Blue Ridge Mountains that weave their way round the city's edge, there are few cities more.
The Biltmore Estate
But it's not all nature in Asheville. North Carolina plays host to the majestic 19th century estate of one of capitalist America's most prolific protégés, George Vanderbilt.
His palatial home is just a short ride to the south of the city center, and sprawls over 8,000 acres of beautiful countryside. Take a tour to America's most-visited winery and book your stay in the largest privately owned house in the United States.
Tickets to the extensive collection that's on display there are available online in advance.
Visit Biltmore Americas Largest Home. Your self-guided visit includes gardens, Americas most visited winery, Antler Hill Village and the farm village
Omni Grove Park Inn
After Biltmore Estate Omni Grove Park Inn is the recognizable landmark of Asheville. The historic resort sits on a slope of a mountain with breathtaking views of the Blue Ridge Mountains and Downtown Asheville.
Omni Grove Park Inn is more than 100 years old, and was recently renovated for 25 million dollars; it offers a golf course and a 43,000-square-foot full subterranean spa with an underground grotto with mineral pools, water falls, underwater music, dry and wet steam rooms.
The hotel hosts many events, such as Arts & Crafts Conference, Comedy Classic Weekend and the famous Heritage Classic Ballroom Dance Championship.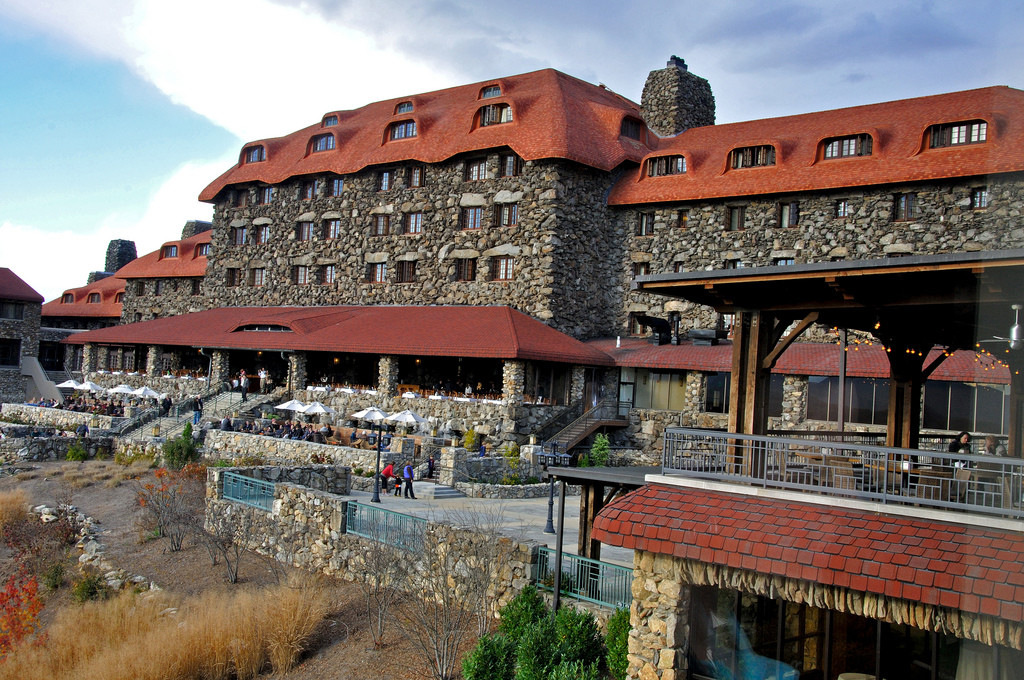 Asheville Botanical Garden
Escape from everyday stress and get lost in the paradise. If you like plants, shrubs and wildflowers, then this is the place for you. The Botanical Gardens at Asheville is a home of Southern Appalachian Mountains native plants. Here you can also find an outstanding collection of Bonsai trees. Admission is free.
Chimney Rock State Park
The Chimney Rock State Park is part of Blue Ridge Heritage Are and located 25 miles from Asheville. This is a perfect place to spend time with family and friends. Beautiful state park with hiking trails for all ages, 404-foot waterfall and spectacular view on gorge and Lake Lure. This is the place where key scenes for the movie "Last of the Mohicans" were filmed.
The ticket price for ages 5-15 is $7 and $15 for adults.
Blue Ridge Parkway
Most first-time visitors simply can't resist the call of the wild, and before long they are cruising down the Blue Ridge Parkway or weaving their way round the forest mountain trails in search of the panoramic views that exist here in excess.
Free things to do in Asheville
The Blue Ridge Parkway is easily accessible from Interstate I-40.
With a short distance from Asheville you may find so many hiking trails with the picnic areas so grab a blanket and pack your lunch and enjoy the beauty of the Blue Ridge Mountains. There are restrooms on many major stops, but make sure you have enough gas, otherwise you need to take an exit to go to the nearest gas station.
Downtown Asheville is famous for its local boutiques, art galleries, restaurants and antique shops. Park your car and take an exploration of "Paris of the South".
North Carolina Breweries, beer specials and popular places to drink.
Asheville is one of the best places to visit for a single person or family vacation. There are around 100 hotels and Bed & Breakfast in the Asheville area, from two star motels to luxury hotels. You can find a nice place to stay and spend your time.